Scrabble Tiles
I have acquired a few extra Scrabble tiles which are now available for sale online. A grab bag of 30 tiles is $5.00 + $1.00 shipping (that's $1.00 total for any number of tiles, not $1.00 each!...but please note that international shipping will be higher). If you want to chose the letters, the cost is $0.35 per tile + $1.00 shipping. A complete alphabet, including the blank tile, is $6.50 +$1.00 shipping.

I also have some Scrabble game boards, which have many uses. Cut one up and make journal covers, or assemble into a box, or just open the board over any vertical support and have an instant table! The boards are in used, but good, condition. They are $2.00 each + $3.00 shipping. (yup, the shipping is more than the board, but that's what the postage costs)
FYI, these are the actual wood Scrabble game tiles, not rubber stamp images of the tiles.

To order, please email me at Sales.

---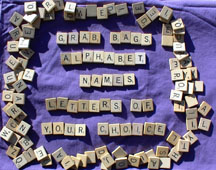 Home
Rubber Stamp Catalogue